Leighton Library Restoration
If you'd like to donate to the Leighton Library Restoration Appeal please click on this link to the Leighton Library Restoration Appeal JustGiving page

A message from Richard Deacon CBE, Turner Prize Winning Sculptor
"The Leighton Library is a little jewel, vitally important in the history of Scottish learning and, as the first purpose-built library in Scotland, a marker for the public spread of knowledge. Humble on the outside, it is rather like Dr Who's Tardis with riches within, enabling travel in time and space. It would be a tragedy for it not to be maintained"
Restoration Work has begun!
Local masonry firm Gillies and Farrell Masonry Ltd have been contracted to undertake the external fabric repairs.
The Cartouche was carefully removed by Graciela Ainsworth Sculpture Conservation during the last week of October. It has gone to their workshop in Edinburgh for assessment prior to conservation.
Extensive scaffolding was erected in January 2023 to start work on the outside. The work will include removing the existing modern cement based harling from all four walls, rebuilding the north chimney and repairing the bulging wall underneath it, repairing the south chimney, repairing the slate roof with matching old Scots tiles sourced locally, restoring the missing crowsteps on the south gable and generally repairing stone work, doors and windows. The cement harling will be replaced with lime based material, which will allow the building to 'breathe'. The modern harling is waterproof, but when cracked over time, it traps moisture in the stone.
We anticipate work to be completed by November 2023.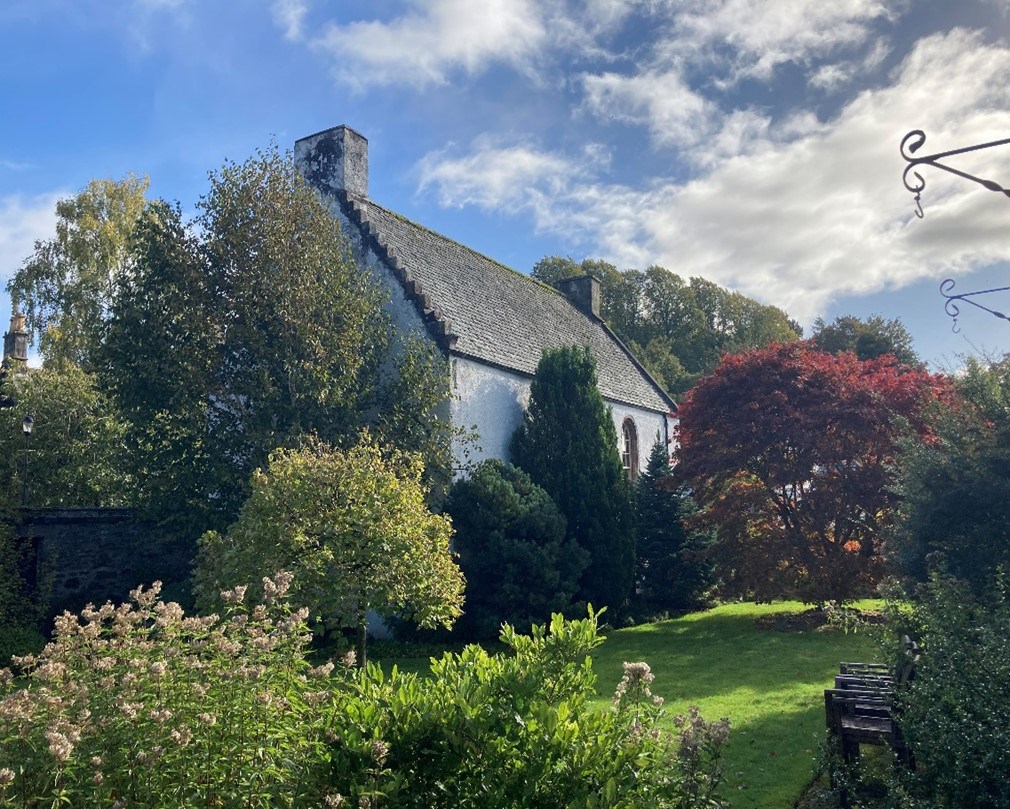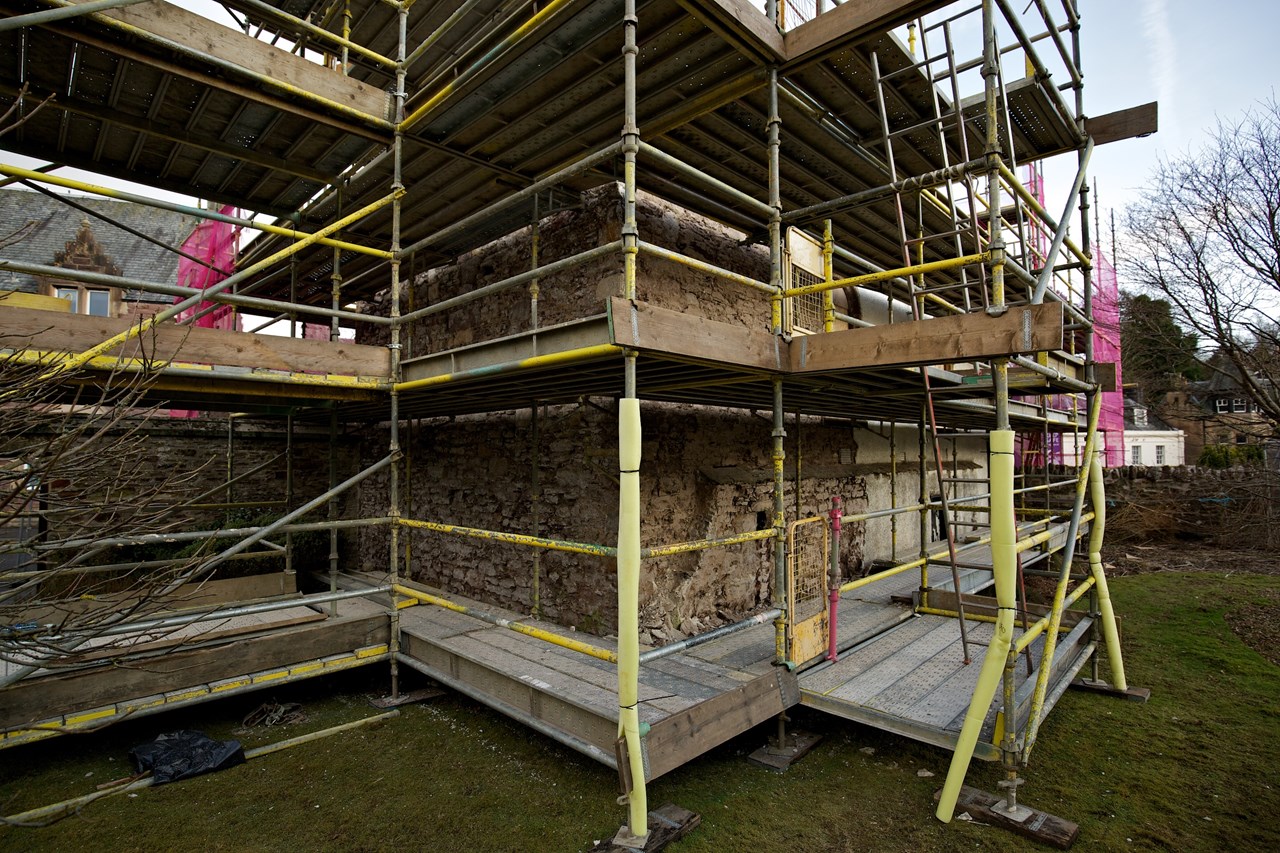 What do we need the money for?
The building is as important as the books -it was built to house them in 1687 and it now needs repair to the fabric:
Replace the cement based harling and replace with breathable lime harl
Take down and repair the marble cartouche
Repair the roof, leadwork and rainwater system
Repair the stonework, windows and doors
Restore the Undercroft to become a visitor/exhibition/performance space
It is estimated the repair costs will be around £500,000
Donations gratefully received to date: Total £389,149
| Donor | Amount |
| --- | --- |
| Historic Environment Scotland | £188,000 |
| Miss Geraldine Goddard bequest | £100,000 |
| J Malcolm Allan | £2,000 |
| Western Ferries (Clyde) Ltd | £500 |
| Clackmannanshire & Stirling Environmental Trust | £7,500 |
| HR Creswick's Charitable Trust | £15,000 |
| Mrs Geraldine Kirkpatrick's Charitable Trust | £1,500 |
| Miss Willimina Walpole Bequest | £500 |
| Stafford Trust | £5,000 |
| Dunblane Windfarm | £1,500 |
| Pilgrim Trust | £30,000 |
| Local Fundraising | £1,375 |
| PayPal donations | £769 |
| The Dalrymple Donaldson Fund | £4,000 |
| Just Giving | £1,755 |
| The Tay Charitable Trust | £2,000 |
| The Swire Charitable Trust | £10,000 |
| The Barrack Charitable Trust | £1,250 |
| Other donations | £10,500 |
| Binks Trust | £2,000 |
| The Dunclay Charitable Trust | £1000 |
| The Aurelius Charitable Trust | £2,000 |
| Western Ferries (Clyde) Ltd | £1,000 |