📰🗞️ Article in the Stirling Observer about the planning application for the Undercroft of Dunblane's historic Leighton Library
Added at 11:26 on 10 March 2023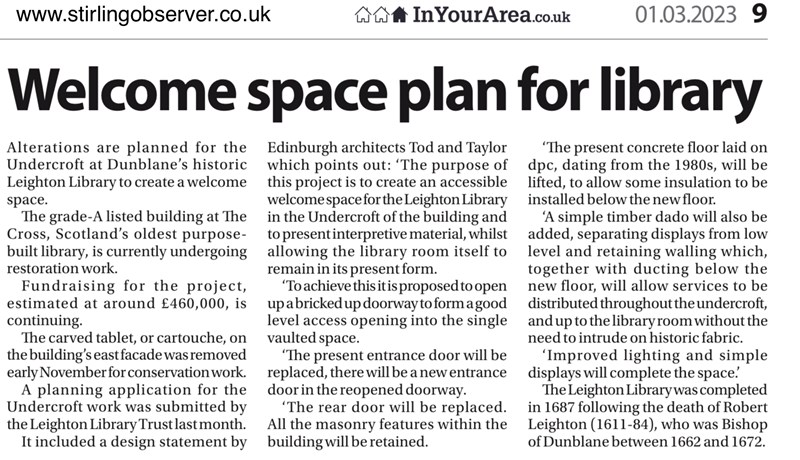 📰🗞️ Click here to view the article in the Stirling Observer on 1 March 2023 about the planning application for the Undercroft of Dunblane's historic Leighton Library which was submitted by the Leighton Library Trust last month.
It included a design statement by Edinburgh architects Tod and Taylor which points out: 'The purpose of this project is to create an accessible welcome space for the Leighton Library in the Undercroft of the building and to present interpretive material, whilst allowing the library room itself to remain in its present form.
'To achieve this it is proposed to open up a bricked up doorway to form a good level access opening into the single vaulted space.
'The present entrance door will be replaced, there will be a new entrance door in the reopened doorway.
'The rear door will be replaced.
All the masonry features within the building will be retained.
"The present concrete floor laid on dpc, dating from the 1980s, will be lifted, to allow some insulation to be installed below the new floor.
'A simple timber dado will also be added, separating displays from low level and retaining walling which, together with ducting below the new floor, will allow services to be distributed throughout the undercroft, and up to the library room without the need to intrude on historic fabric.
'Improved lighting and simple displays will complete the space!
Dunblane's historic Leighton Library is closed for restoration work - if you'd like to find out more, or to give a donation to support the Leighton Library Restoration Appeal to help ensure the Leighton Library can continue to be enjoyed for future generations, then do please use the following link: